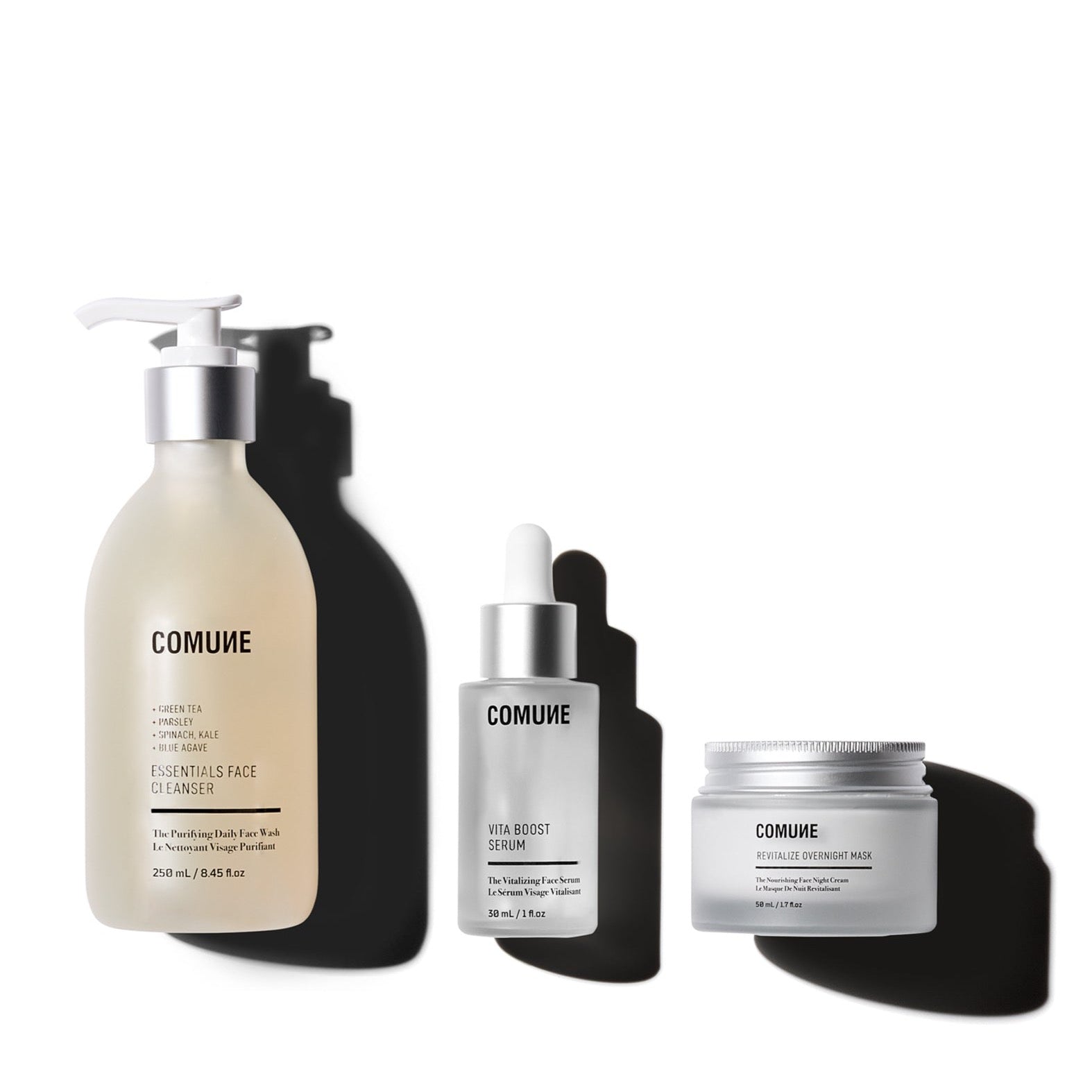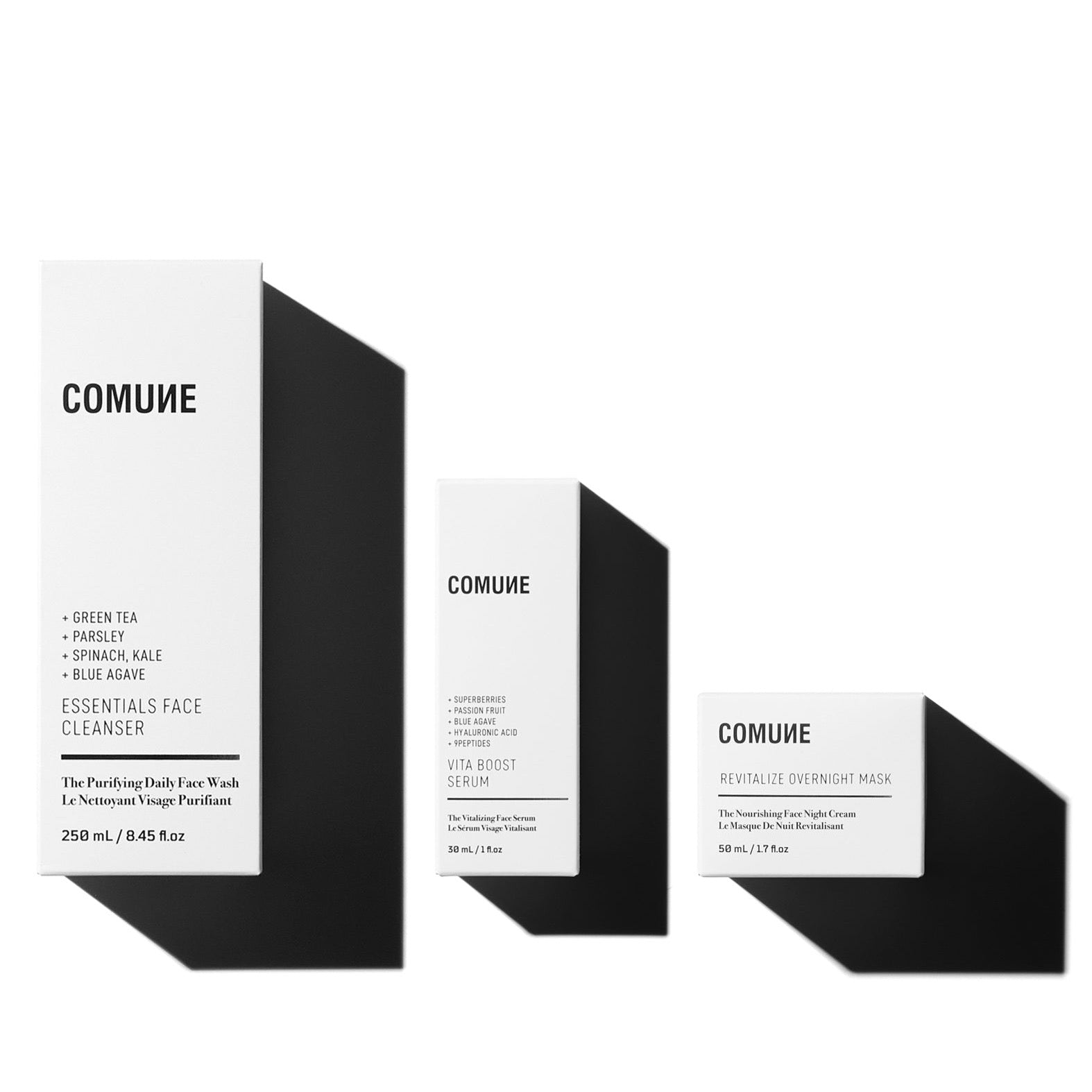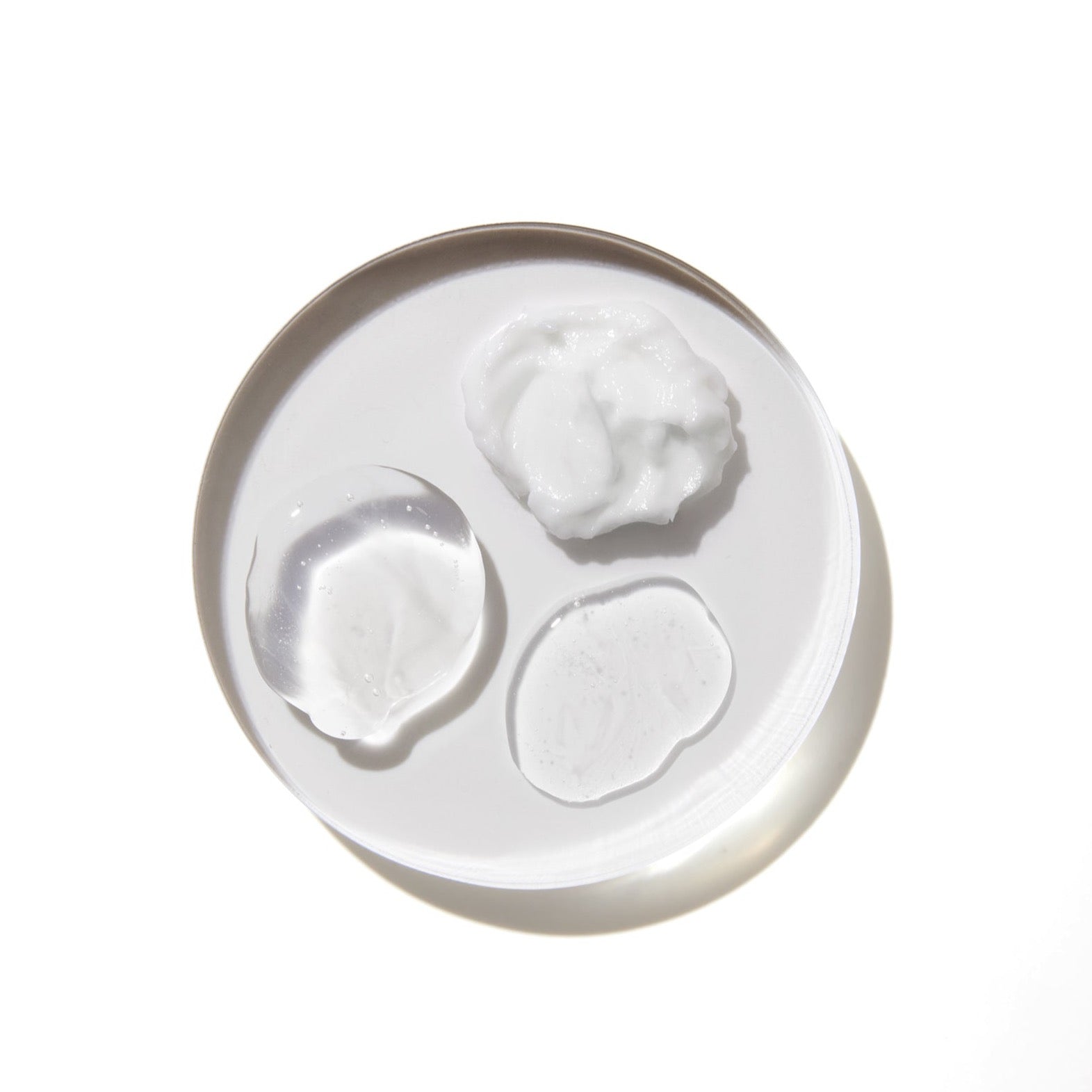 RENEW NIGHTLY CARE TRIO
Sale price

$108.00 USD
Regular price
(/)
CLEAN  |  VEGAN  |  CRUELTY-FREE
The Renew Nightly Care Trio provides your skincare routine with the perfect blend of cleanse, revitalize, and renew. Our Essential Face Cleanser removes dirt and impurities while maintaining skin's natural moisture. Our Vita Boost Serum brings dull skin back to life, protecting it from environmental aggressors. Lastly, the Revitalize Overnight Mask soothes and nourishes skin while you sleep. Get that natural radiant look with these essential products.
CLEANSE + REVITALIZE + RENEW
• Essentials Face Cleanser
• Vita Boost Serum
• Revitalize Overnight Mask
Made in Korea
Choose options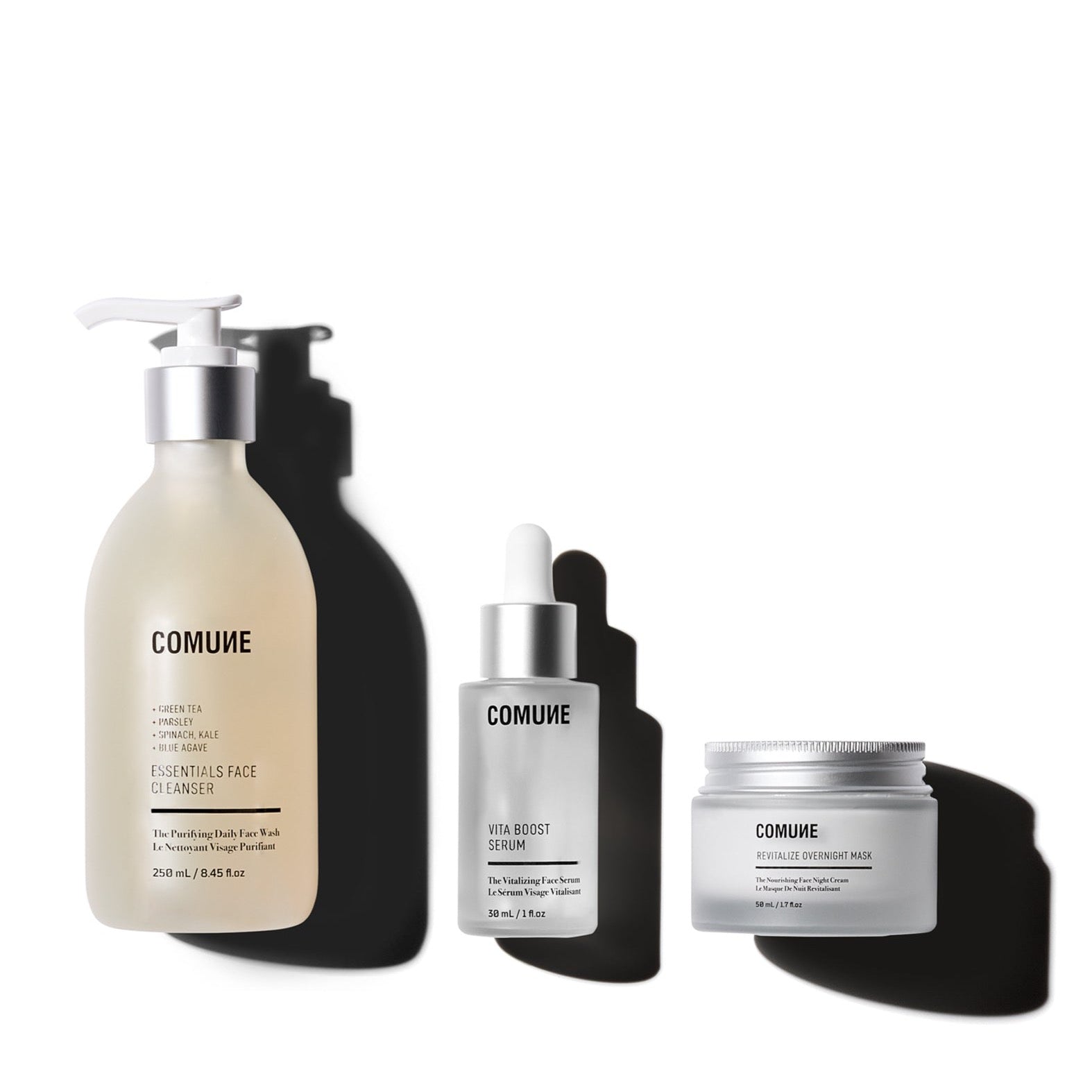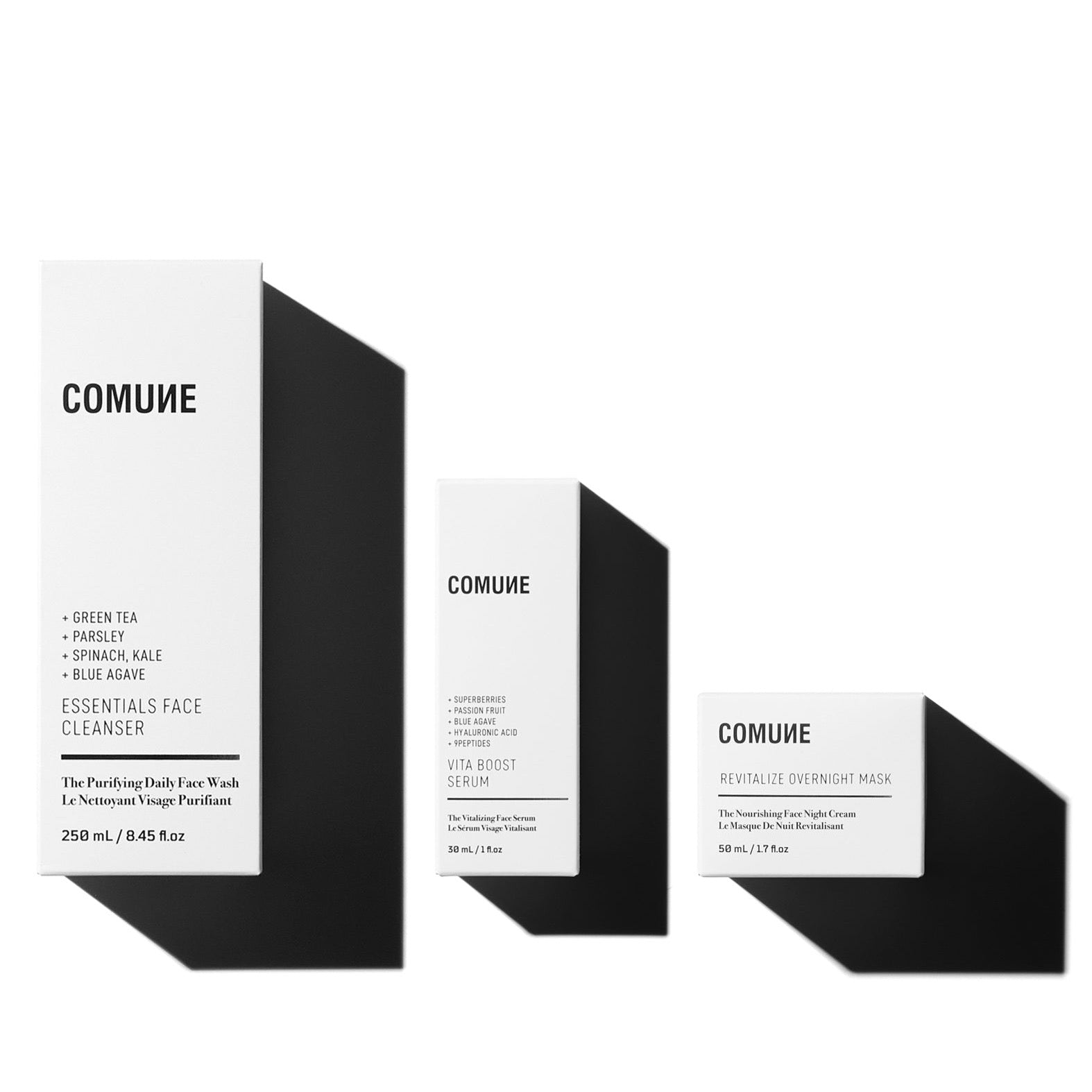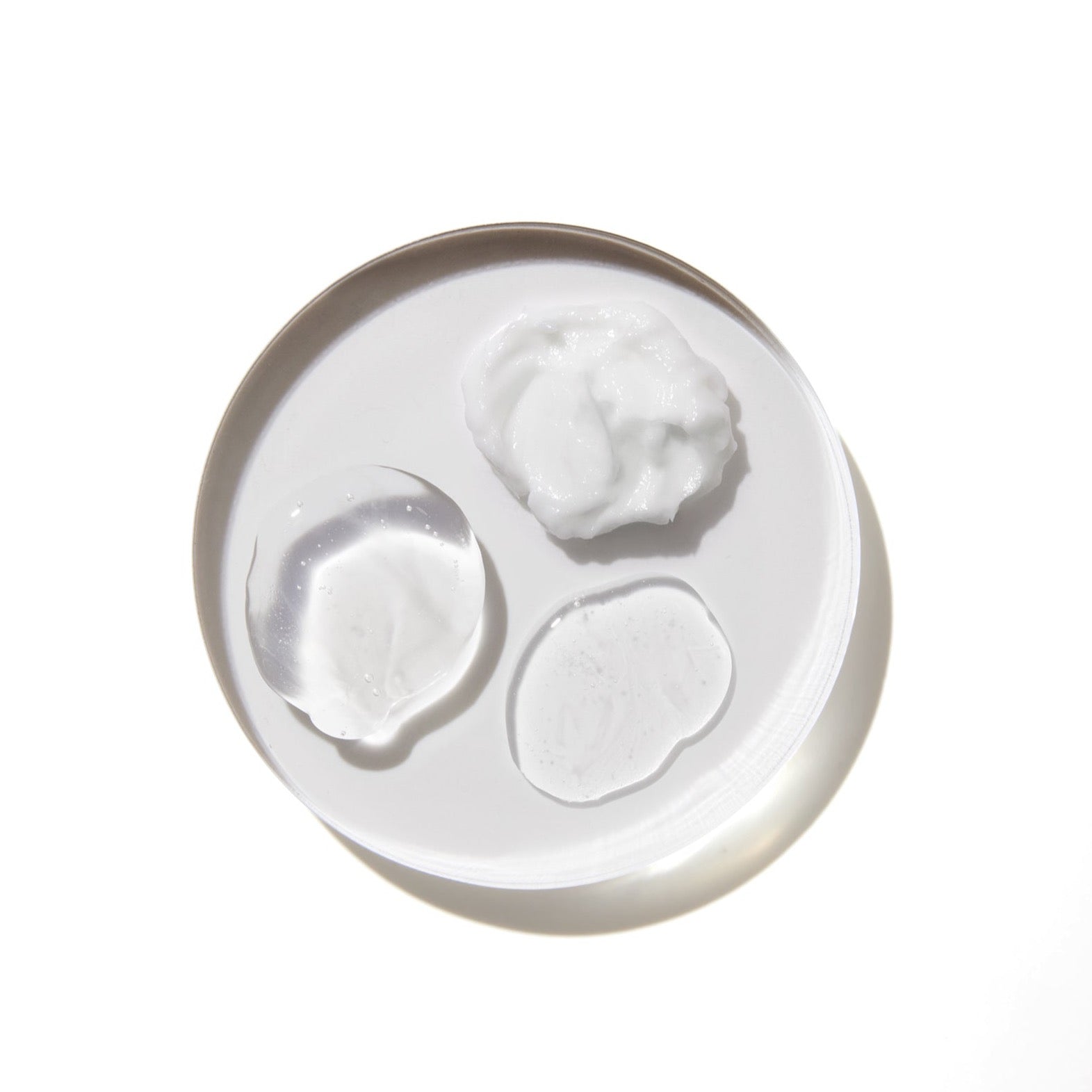 COMUNE
Features
• ESSENTIALS FACE CLEANSER
A gentle-yet-effective daily cleanser, enhanced with purifying and nourishing properties to cleanse surface impurities while revitalizing to help reveal clearer, healthier-looking skin. Enriched with antioxidants, vitamins, and minerals from a blend of Superfoods complex such as Green Tea, Parsley, Spinach, Kale, and immune system-boosting Blue Agave, this Essential Face Cleanser effectively prevents buildup in pores, removes makeup, balance pH, and cleanses gently without drying or stripping. Ideal for maintaining ultimate clean skin for all skin types.

• VITA BOOST SERUM
A Superfruit blend of antioxidant-rich extracts, enriched with essential properties to help unlock the essence of youthful skin. This moisture-boosting serum contains Hyaluronic Acid, 9Peptides Complex, and immune system-boosting Blue Agave to instantly revitalize dry, dehydrated skin, and helps support natural collagen production to keep your skin firm, plump, and more youthful-looking. Ideal for maintaining vitalized skin for all skin types. Fragrance-free.

• REVITALIZE OVERNIGHT MASK
A dual-function overnight mask that's both a rich night cream and a revitalizing treatment for brighter, more radiant-looking skin. Enriched with Superfood antioxidants, vitamins, and minerals, plus three well-known active essentials like moisture-boosting Hyaluronic Acid + Squalane, and multi-active Niacinamide that help to deeply hydrate, nourish, and recover the skin. Lavender adds a calming, relaxing sensation while overall ingredients help target troubled skin for a healthier-looking complexion. Ideal for maintaining revitalized skin for all skin types, dullness, and uneven skin tone.