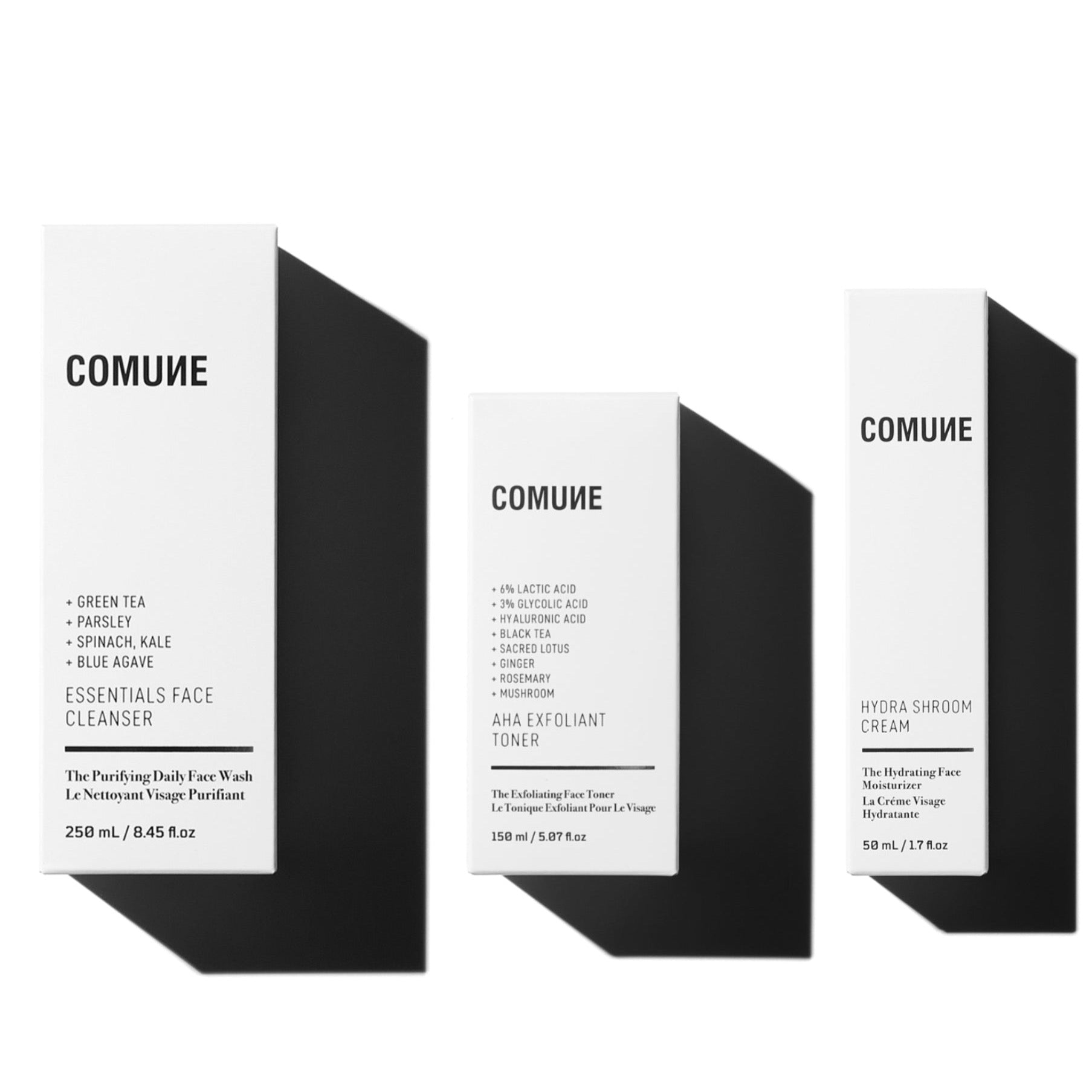 CLEAR + NOURISH SKINCARE TRIO
Sale price

$100.00 USD
Regular price
(/)
For: Dry, Oily, Combo, Normal Skin
CLEAN  |  VEGAN  |  CRUELTY-FREE
Discover the perfect balance of cleanse, renew, and nourish with the Clear + Nourish Skincare Trio. It includes the Essentials Face Cleanser, the AHA Exfoliant Toner, and the Hydra Shroom Cream to maximize your skincare routine. The Face Cleanser is formulated with natural ingredients to effectively remove impurities, while the AHA Exfoliant Toner helps to refine and balance skin tone. The Hydra Shroom Cream replenishes and locks in moisture for a healthy complexion.
CLEANSE + RENEW + NOURISH

• Essentials Face Cleanser 
• AHA Exfoliant Toner 
• Hydra Shroom Cream
Made in Korea
Choose options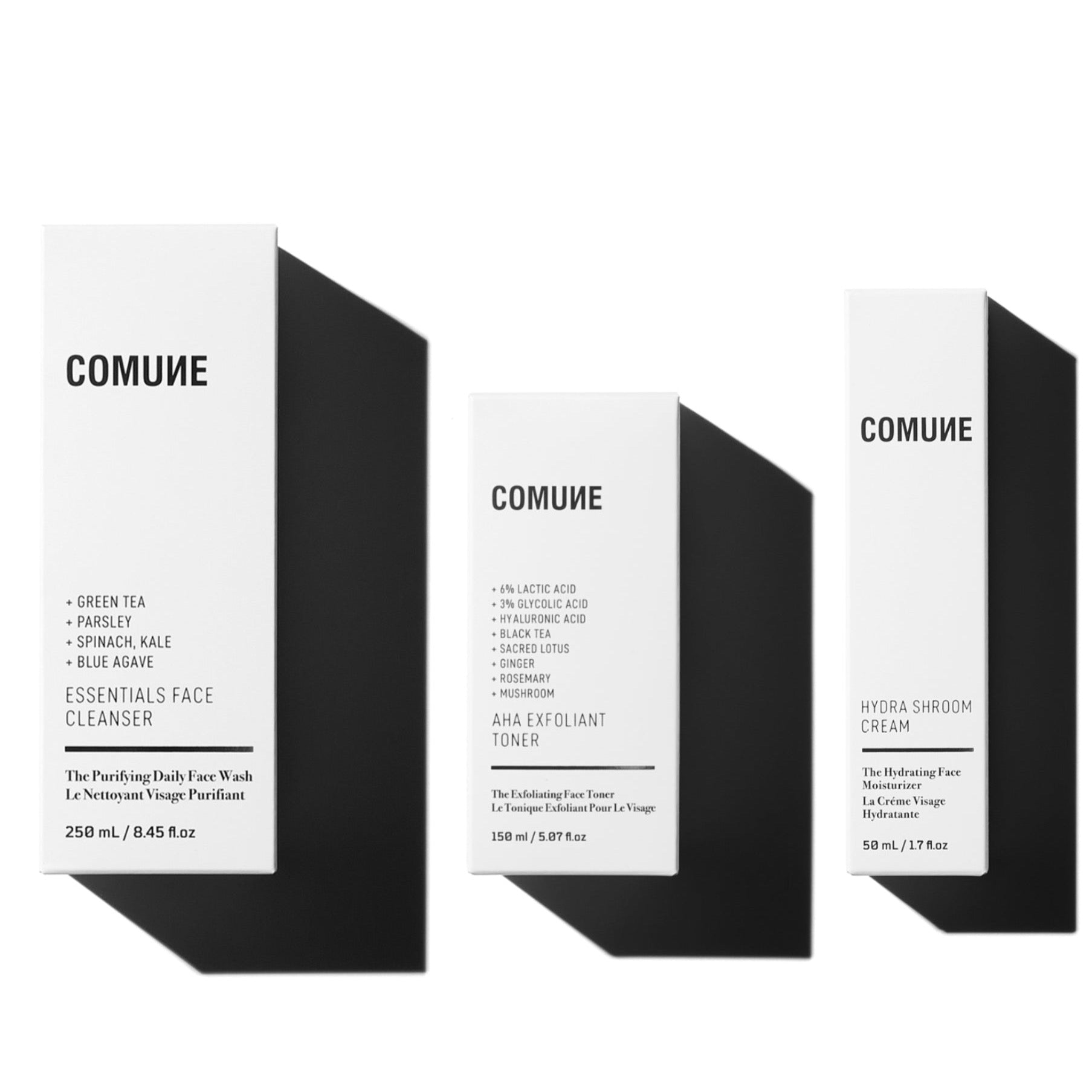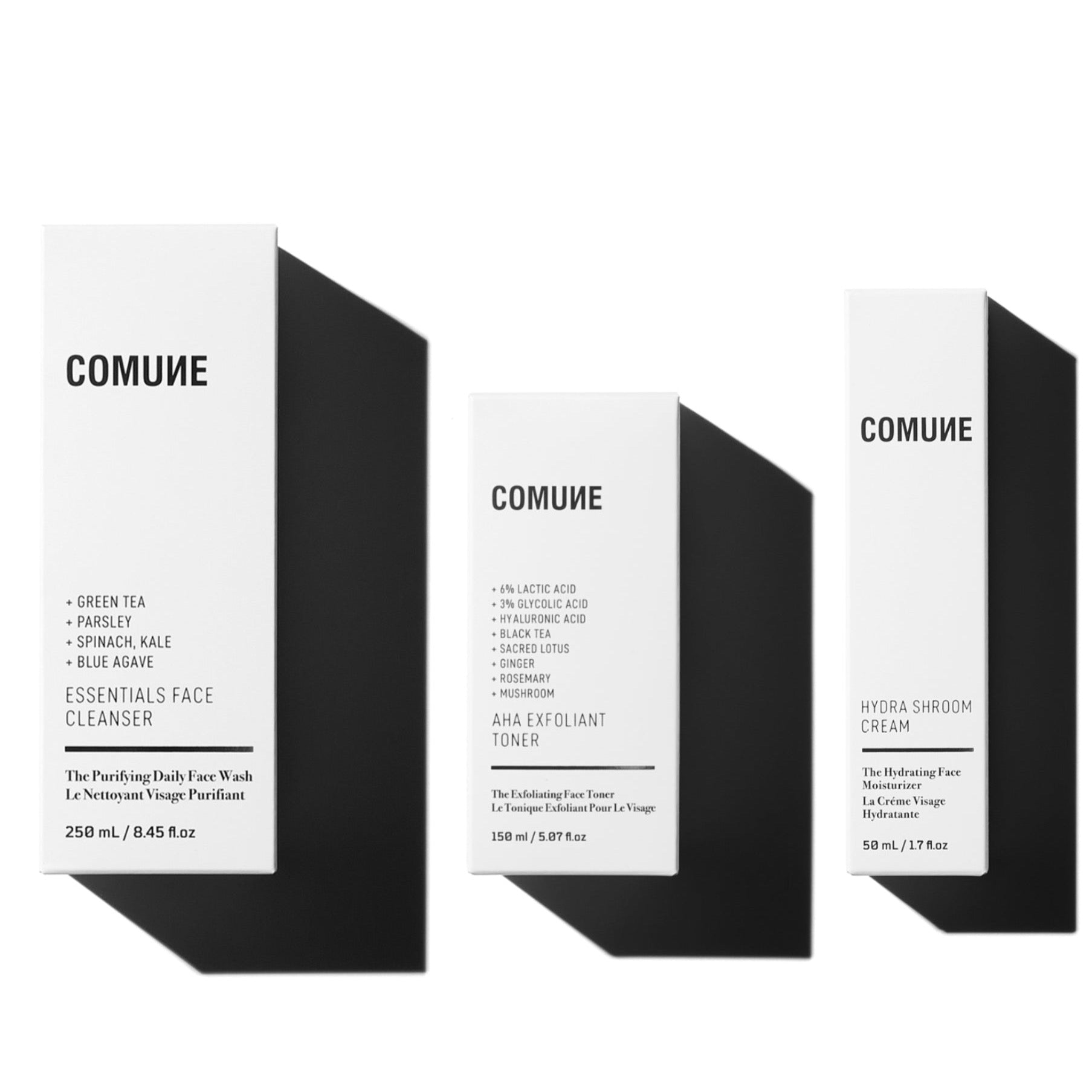 COMUNE
Features
• ESSENTIALS FACE CLEANSER
A gentle-yet-effective daily cleanser, enhanced with purifying and nourishing properties to cleanse surface impurities while revitalizing to help reveal clearer, healthier-looking skin. Enriched with antioxidants, vitamins, and minerals from a blend of Superfoods complex such as Green Tea, Parsley, Spinach, Kale, and immune system-boosting Blue Agave, this Essential Face Cleanser effectively prevents buildup in pores, removes makeup, balance pH, and cleanses gently without drying or stripping. Ideal for maintaining ultimate clean skin for all skin types.

• AHA EXFOLIANT TONER
A powerful-yet-gentle exfoliating toner, this leave-on liquid exfoliant contains a combination of 6% Lactic Acid, 3% Glycolic Acid, and Hyaluronic Acid to help exfoliate dulling cells, excess sebum, and clogged pores while hydrating the skin. Enriched with microbiome-enhancing fermented Black Tea + Sacred Lotus, restoring Ginger + Rosemary, and soothing mushrooms, works effectively over time to reveal brighter and smoother skin for a clearer, healthier-looking complexion. Ideal for maintaining immaculate skin for all skin types, breakout-prone, dullness, and uneven skin tone.

• HYDRA SHROOM CREAM
A deeply-hydrating cream enriched with emollient botanicals and an adaptogenic herbal complex is formulated to provide hydration, fortification, and nourishment to your skin. This luxurious cream, which includes soothing Reishi Mushroom, Astragalus Roots, and high-purity Squalane from sugarcane, combined with a collagen-boosting Tripeptide Complex, offers essential nourishment and revitalization for healthier, more radiant-looking skin. Ideal for maintaining pristine skin for all skin types, non-comedogenic.