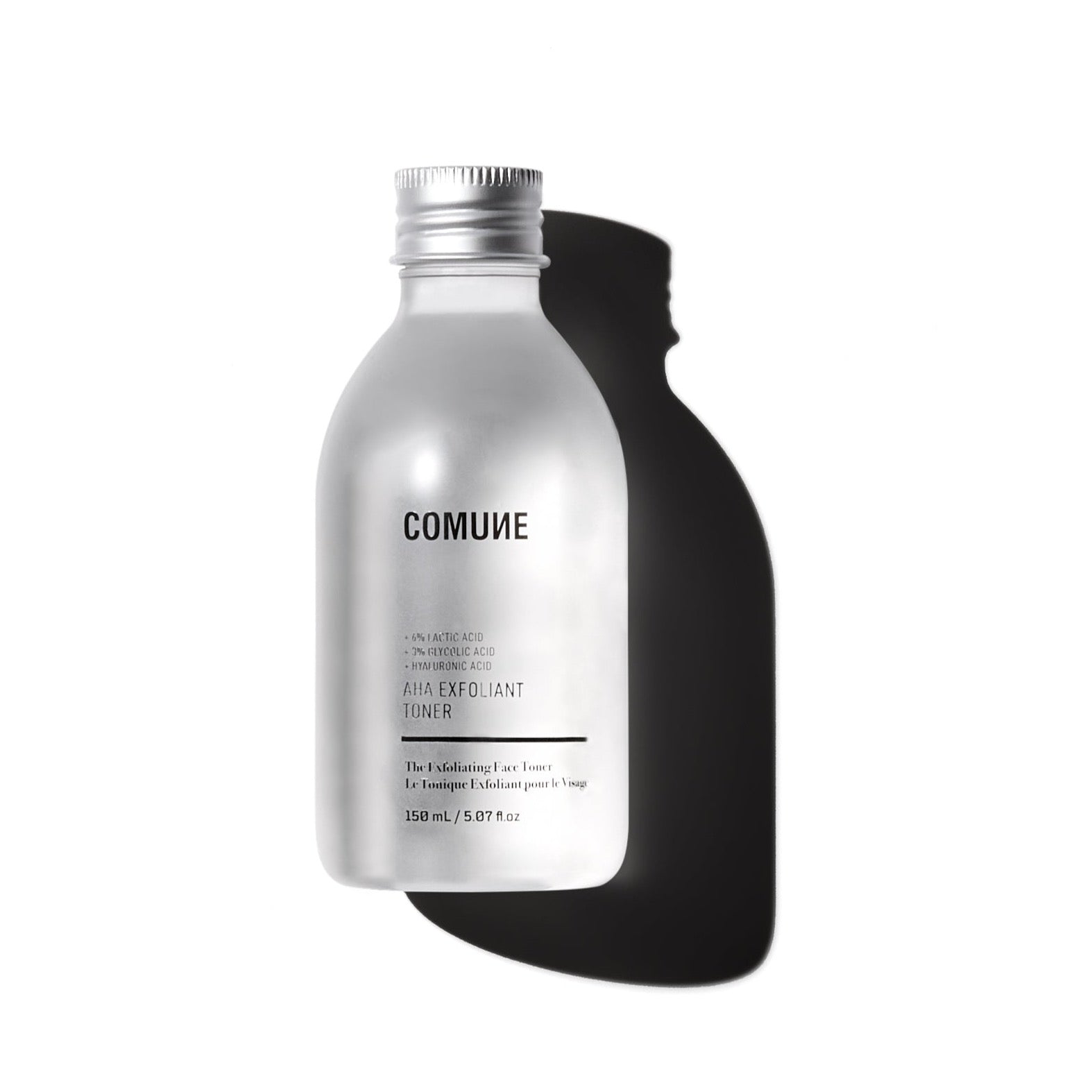 AHA EXFOLIANT TONER
CLEAN  |  VEGAN  |  CRUELTY-FREE
A powerful-yet-gentle exfoliant toner, this leave-on liquid exfoliant contains a combination of 6% Lactic Acid, 3% Glycolic Acid, and Hyaluronic Acid to help exfoliate dulling cells, excess sebum, and clogged pores while hydrating the skin.  Enriched with microbiome-enhancing fermented Black Tea + Sacred Lotus, restoring Ginger + Rosemary, and soothing Mushrooms, works effectively over time to reveal brighter and smoother skin for a clearer, healthier-looking complexion.  Ideal for maintaining immaculate skin for all skin types, dullness, breakout-prone, and uneven skin tone.  
Made in Korea
Sale price

$34.00 USD
COMUNE ESSENTIALS COLLECTION KIT
CLEAN  |  VEGAN  |  CRUELTY-FREE

COMUNE ESSENTIALS COLLECTION KIT is the perfect way to maintain clear and healthy-looking skin. The kit includes COMUNE's 5 products, designed to offer a simple day and night routine, so you can enjoy the benefits of beautiful skin. With this kit, you can easily start a skin care routine that keeps you looking radiant and feeling confident.
KIT INCLUDES
• ESSENTIALS FACE CLEANSER
• AHA EXFOLIANT TONER 
• VITA BOOST SERUM 
• HYDRA SHROOM CREAM 
• REVITALIZE OVERNIGHT MASK
Made in Korea
Sale price

$176.00 USD
RENEWAL CARE DUO
CLEAN  |  VEGAN  |  CRUELTY-FREE
Experience clean & clear, glowing skin with Renewal Care Duo. Our Essential Face Cleanser acts as a mild, gentle cleanser to sweep away dirt, oil, makeup and impurities. Follow up with our AHA Exfoliant Toner to remove dead skin cells and reveal a brighter, more vibrant complexion. This duo promotes skin renewal and helps to achieve healthier, radiant look.
CLEANSE + EXFOLIATE
• Essential Face Cleanser
• AHA Exfoliant Toner
Made in Korea
Sale price

$66.00 USD
CLEAR + NOURISH SKINCARE TRIO
CLEAN  |  VEGAN  |  CRUELTY-FREE
Discover the perfect balance of cleanse, renew, and nourish with the Clear + Nourish Skincare Trio. It includes the Essentials Face Cleanser, the AHA Exfoliant Toner, and the Hydra Shroom Cream to maximize your skincare routine. The Face Cleanser is formulated with natural ingredients to effectively remove impurities, while the AHA Exfoliant Toner helps to refine and balance skin tone. The Hydra Shroom Cream replenishes and locks in moisture for a healthy complexion.
CLEANSE + RENEW + NOURISH

• Essentials Face Cleanser 
• AHA Exfoliant Toner 
• Hydra Shroom Cream
Made in Korea
Sale price

$100.00 USD
"Will definitely be buying from Comune again!
Beautiful design, amazing results, very good face wash. My face has been glowing and healthy." _ by Tony
"This cleanser is a must-have!
I recently discovered the Superfood Antioxidant-Rich Face Cleanser, and it has become a game-changer in my skincare routine. This cleanser not only removes surface impurities but also nourishes my skin!" _ by Alex
"Brighter and Glowing Skin!
Love the gentle scent! Doesn't smell like a generic chemical floral scent, and feels as good as coming back from a spa day." _ by Kevin
"Nice formula!
I was really pleased by how much I like this toner. The formula feels really nice and after about a week or two of use I noticed my face looked brighter, my complexion starting to even out and my skin absorbed my existing moisturizer nicely." _ by Mellisa
"Amazing!
I have been into clean products lately thats how I came upon this new brand of skin care. Very Impressed with the results. Only after a few times of using it, I can see the difference and I'm excited for the improvements." _ by Ted